Submitted
by
Tia Barr & Dianna
Oct 12 2001

WAYNE CO., IL

MEN KIA or DIED DURING THE KOREA WAR
Source: newspapers on microfilms, Madison Historical Library, Madison, WI Oct. 8-13, 1981.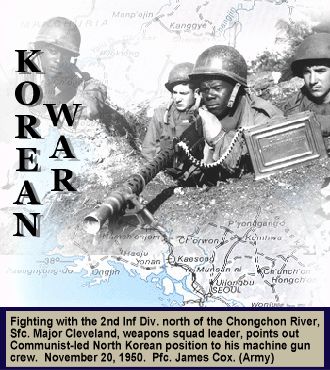 Tia and I went through the microfilms for the Wayne County Press, during 1981 and found articles or notices of the 'Boys killed or died' during the Korean War. Then we did a comparison with the IL Veterans Administration. This page is what we found from both resources.
Dianna
Coordinator

NAME
RANK
GRADE
BRANCH
SERVICE
DATE OF
CASUALTY
CAUSE OF
CASUALTY
BLOCK, Gerald V
CPL
Army
11 Feb 1951
Died while
Captured
BOLEN James E
PFC
Army
26 Nov 1950
KIA
BORAH John M
PFC
Army
01 Oct 1952
KIA
SCOTT Robert D
SGT
Army
18 MAY 1951
KIA
SHREVE Harold R
CPL
Army
02 Dec 1950
Died while
missing
WILSON Duane E
PVT
Army
12 Sep 1950
KIA
Feb 17, 2002
Copyright © Jan 1999-Present D. Williams;
All rights reserved.
Last rev.
Tuesday, 24-May-2016 21:11:35 EDT