transcribed,
copyright and
submitted by
Diane Bunting Lehner

WAYNE CO., IL

NEW HOPE GENERAL BAPTIST

CHURCH
This page is dedicated to the Old New Hope Missionary Baptist Church. This is one of the many older churches in Wayne County. Many thanks to Diane and the pastor for allowing her to transcribe this information and to place it on the web site. Most of all, thank you to all those that helped start this church and those that attend it today.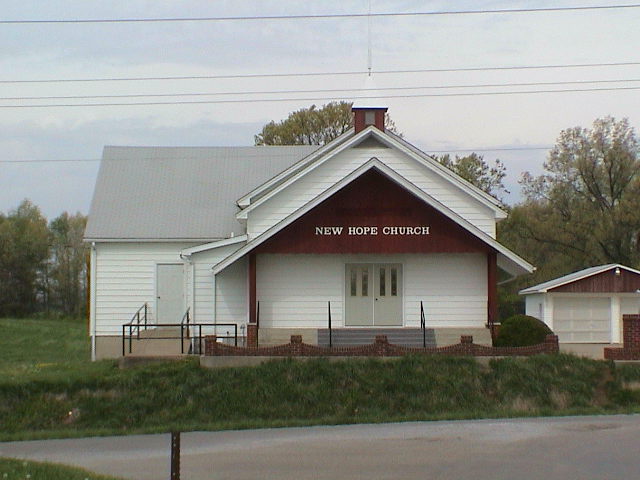 History of New Hope
General Baptist Church
An early history written for the 1965 church homecoming states that the New Hope General Baptist Church was organized in September 1874 by Elder J.F. Clevenger, Elder S.C. Sherwood, Deacon D. Smith and Deacon John Smith. However, the earliest church minutes that have been located are dated December, 1875.
The church is located in Section 25 of Big Mound Township, (T.2S.-R7.E.) approximately ¼ mile west of Highway 45 in Wayne County, Illinois. The building site was a gift from Brother Henry Tyler.
The first lighting system used was tallow candles, a little later they were discarded for kerosene lamps, then came the gas lights, a few years later a battery plant supplied the energy for a lighting system, and when the R.E.A. lines were brought to our Community, our present electric lights were installed.
The Church had no bell for several years, until around 1912, when Sister Rebecca Hall gave the Church one as a gift.
In 1958, the addition on the south side of the building was added.
Elders J. F. Clevenger and J. P. Turner were among the earliest pastors with Brothers Henry Tyler and W. T. Zimmerman serving in the position of church clerk.

10 Dec 2003
Copyright © Jan 1999-Present D. Williams
All rights reserved.
Last rev.
Tuesday, 24-May-2016 20:43:16 EDT